Money for Music
Participating School: Antigo Red Robins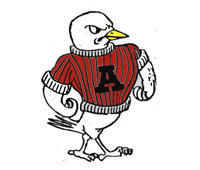 Founded: 1885
Principal: Tom Zamzow
Students: ~950
Music Department
The Antigo High School Band program is part of a comprehensive music program at Antigo High School that includes three concert bands, two jazz bands, two pep bands, a music theory class, and a strong solo ensemble program. There are 100 students in the band program. The High School Choir consists of two choirs, a madrigal choir, and a swing choir. The choir Program consists of 85 students. Talented choir and band students have the opportunity to participate in Honors Groups. The Director of Bands is Mr. Jeff Dewey and the Choir Director is Mr. Tim Delnay.
School Accomplishments
The Marching Band placed 5th at the State Marching Band Championships in 2009. Ensembles and Choirs consistently advance to the State Solo and Ensemble Festival. The Band was invited to perform at the State Capitol building last April for Music in our Schools Month. In 2008 the band and choir was invited to perform for Disney's Magic Music Days. In spring of 2012, the band and choir performed at the National Cherry Blossom Festival in Washington D.C. Students from Antigo High School are consistently represented in the State Honors Band, Orchestra, and Choir.
Other Details
The Music, Drama, and Art Departments combine each spring to present a quality musical production that runs for six performances with near sell-outs every night.