Money for Music
Participating School: Almond-Bancroft Eagles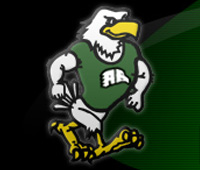 Founded:

1901

Principal:

Jeff Rykal

Students:

130
Music Department
The high school students at Almond-Bancroft are given the opportunity to participate in the ABHS Concert Band, ABHS Pep Band, Marching Band, ABHS Concert Choir and ABHS Show Choir. We have a total of 43 students participating in our music department ensembles. Every other year we do a large scale musical. Students also have the option of participating in a beginning guitar class, as well as taking part in the on-site Boys and Girls Club musical opportunities after school.
The Almond-Bancroft band is especially proud of its summer 2012 parade marching season. 5 th-12th grade band students and alumni appeared in both the Almond Tater Toot parade and the Bancroft Good Old Days parade this past summer for the first time in many years. They were very well received by the community and even made the front page of the Portage County Gazette in August. As numbers continue to increase, the band is hoping to restart some other long-standing traditions such as the "Polish Mafia" Polka Band, a field show at homecoming, and the Jazz Band.
School Accomplishments
The Almond-Bancroft Music Department has student musicians that participate in District Solo & Ensemble every year, and will be hosting the festival in February 2013. Each year we have students advance to the State level and 1 student received the "Exemplary Soloist" award in 2010. Both the high school Concert Band and Concert Choir has participated CWC Large Group Concert Festival (which is also held in Almond each spring) and received 1st place ratings. The ratings of Excellent and Superior have been awarded to both high school ensembles in the Trills and Thrills Music Festival in Illinois.
Other Details
Despite the small size and limited resources at our school, we are continually working to develop musical opportunities for our students that would rival the biggest and the best programs. It is always a goal to integrate concepts from core subject areas into the music lessons as reinforcement. We want to make music meaningful in each student's life and to give them opportunities to shine. We are proud of all our young musicians!