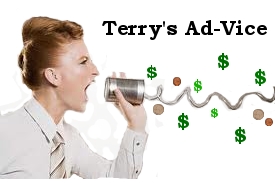 Terry Stevens is a professional radio advertising copywriter and radio host for Midwest Communications in Wausau, Wisconsin. His copywriting and production work have won several awards from the Wisconsin Broadcasters Association over the years. The following opinion does not necessarily represent that of his employer. However, seeing as they've made plenty of dough from Terry's work, they may be inclined to agree with him.
Your Favorite Band Will Sue You
Gangnam Style.
You know it. You love it. You don't understand a damn word of it.
It's the hottest song in the country, nay, the world right now.
But wait! What if you took the song and changed to the lyrics from "Opa Gangnam Style" to "Opa Tavern/Chevy/Wausau Style"?
How catchy! How clever! How very illegal.
Psy's song is copyrighted material. In fact, virtually every artist's songs are copyrighted material.
If you want to use them in your advertisement, you have to pay a licensing fee to the owner of the copyright. These fees can range from hundreds to tens or hundreds of thousands of dollars depending on the copyright holder.
Even if you're a bar or nightclub that pays ASCAP/BMI fees for the music you pay in your establishment, those fees do NOT cover using the artists' music to advertise your business.
At this point, you might be thinking, "Come on T. What are the odds that some artist is going to hear my business using their song in a radio ad broadcast in the middle of Wisconsin?"
The odds are actually, pretty good. Ask any tavern who's ever been busted by an ASCAP/BMI sting. Ask the car dealership in a tiny town in Indiana how it felt to pay 30-grand because a relative of a certain artist was driving through town and caught their advertisement on the air.
There are a lot of vacation properties around here. Some lawyer from Chicago stands a pretty good shot of hearing your business use his or her client's work without permission.
Even if you change the lyrics to make a parody of the song, you're still not covered.
"But Terry, isn't parody or satire covered under Fair Use Laws?"
There's no such thing as a Fair Use Law. Fair Use is a doctrine, or legal arguement at best.
There are very limited circumstances under which you can use copyrighted material and have it considered Fair Use. The following is taken directly from the U.S. Copyright Office's official web site:
---
Section 107 contains a list of the various purposes for which the reproduction of a particular work may be considered fair, such as criticism, comment, news reporting, teaching, scholarship, and research...
The distinction between what is fair use and what is infringement in a particular case will not always be clear or easily defined. There is no specific number of words, lines, or notes that may safely be taken without permission. Acknowledging the source of the copyrighted material does not substitute for obtaining permission.
---
Criticism, comment, news reporting, teaching, scholarship and research? Covered under Fair Use.
Radio/TV/Internet commercials? Not covered.
Note that second bit one more time: There is no specific number of words, lines, or notes that may safely be taken without permission.
There is no 5-second, 10-second, or 30-second rule regarding how much of a copyrighted song you can take. Anyone who tells you otherwise is a danger to the financial well-being of your business and should be disregarded.
Don't make the VERY expensive mistake of taking something that isn't yours.
After all, if a musician came in to your business and took something of yours without paying for it to support his or her musical endeavors, you'd probably be more than an little incensed, no?
Our Production Department has a library of background music that is licensed for commercial use. We can give you the musical feel that you're looking for in your ad without risking your fortune in a lawsuit.
For a free advertising consultation for your business, feel free to contact me at 715-842-1672, or via e-mail at terry.stevens@mwcradio.com. Our converstation will be kept completely confidential.
Be Cool,
TS