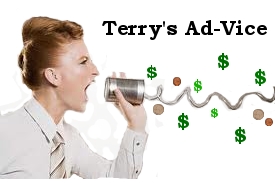 Terry Stevens is a professional radio advertising copywriter and radio host for Midwest Communications in Wausau, Wisconsin. His copywriting and production work have won several awards from the Wisconsin Broadcasters Association over the years. The following opinion does not necessarily represent that of his employer. However, seeing as they've made plenty of dough from Terry's work, they may be inclined to agree with him.
What's So Special About Your Business?
That's the number one question you need to answer before you're going to have an ad that works.
What's so special about you? Why should the person on the other side of the radio give a rip about what you're doing?
Simply being on the radio with a message isn't enough. You have to have a relevant message.
The easy way out of this is to advertise a sale or event of some sort.
"OMG!!! STOP IN THIS WEEK FOR 50 PERCENT OFF!!! OMG!!!"
There's one business that I write for that is constantly in sale mode. Every month, there's a different sale. What's so special about their business? They're constantly having sales.
Trouble is, a lot of businesses in the same product category also have sales. A lot of sales.
All of a sudden, "We're constantly having sales!" isn't so special anymore.
A lot of businesses fall into that pattern.
So how can your business stand out in the land of "The Neverending Sale"?
Advertise what's really special about your business. Let me give you an example.
Wilichowski Realty and Auction is, surprise, an auctioneer and real estate company. They're not the only auctioneer and real estate company. So what's so special about them? What makes their ads stand out?
This:
That, my friend, is an electric chicken plucker.
When we sat down to work on an ad for Wilichowski Realty and Auction, we asked them a lot of questions about their business.
"What makes your business so special?"
"What do you offer that others don't?"
Now of course, we got the usual, "We have great customer service," and the like. Trouble is, everyone has "great customer service."
Then we asked, "What's the weirdest thing you've ever auctioned off?" That's when we heard about the electric chicken plucker.
Now, in every single Wilichowski ad, we mention the electric chicken plucker.
There are plenty of auctioneers in Central Wisconsin, but Wilichowski Realty and Auction is the only one who's auctioned off an electric chicken plucker. Kind of makes you wonder what kind of other wild stuff you'll find at their auctions, no?
Nikki Montgomery and I voice the Wilichowski radio ads. I can't speak for her, but I get A LOT of folks saying, "Hey T, seen any electric chicken pluckers lately?"
The ad sticks in people's heads due toa client who found something unique to say about their business.
We can do that for your business too. You may not deal with electric chicken pluckers in your line of work, but there is something about your business that seperates from the others. If you don't know what it is, we can help you find or develop it. Then we can help you advertise it.
For a free advertising consultation for your business, feel free to contact me at 715-842-1672, or via e-mail at terry.stevens@mwcradio.com. Our converstation will be kept completely confidential.
Be Cool,
TS