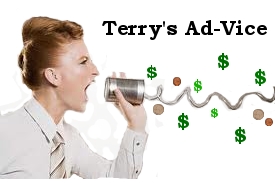 Terry Stevens is a professional radio advertising copywriter and radio host for Midwest Communications in Wausau, Wisconsin. His copywriting and production work have won several awards from the Wisconsin Broadcasters Association over the years. The following opinion does not necessarily represent that of his employer. However, seeing as they've made plenty of dough from Terry's work, they may be inclined to agree with him.
Is Your Business Breaking The Law Pt. 2?

We have a recurring issue at the station wherein some businesses want to use professional sports teams or athlete's names in their ads.
This is a big no-no, as you'll learn in the following video:
Big thanks to Sean Bowers and Brad Ludwig for their respective camera/production and acting talents.
If you have any questions about the legality of your advertisting, feel free to contact me at 715-842-1672, or via e-mail at terry.stevens@mwcradio.com. Our converstation will be kept completely confidential.
Be Cool,
TS