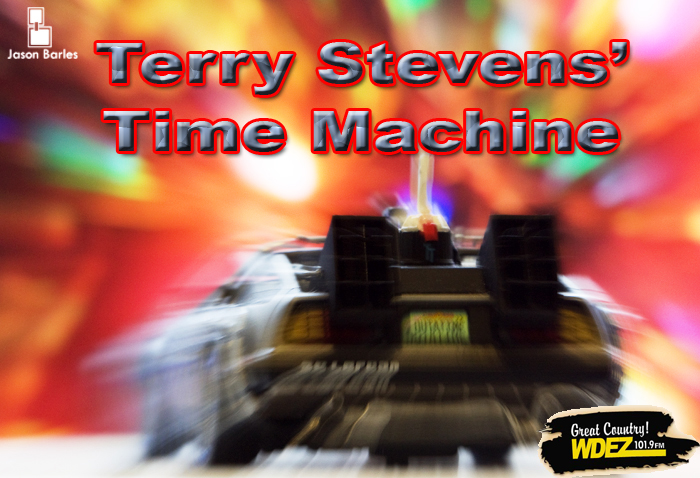 I've been working for WDEZ, and its parent company Midwest Communications, in one way or another since May of 2001. (I'm not sure why they've hung on to me this long either.) Over that time, I written quite a bit in my Blog. Terry Stevens' Time Machine will cherry pick some of those bits, and add some present day perspective.
---
Thursday, April 29th, 2005
So it finally happened. The voice, she is kaput!

What really gets me about this is that I am one of the few DJs in this building who doesn't smoke cigarettes, yet I'm the only one who seems to lose his voice on a regular basis. Is there something in Marlboros that preserve the vocal chords that I'm not aware of? Sheesh!

Anyway, I'm taking a vow of silence now through the weekend. I'm sure my wife Anji will be very upset... Bazooka Joe will fill in for me tonight on Cool-FM. Billie's going to take care of my Midnight-6am shift on Great Country 101.9 WDEZ and Race Bannon will cover my 4p-8p Cool-FM shift on Sunday. I can't thank these folks enough for covering my posterior and my throat this weekend.

On a different topic, I mentioned yesterday that Anji and I are rooting for Bo Bice on American Idol this season. After typing that blog entry, it was revealed that Mr. Bice had a couple of drug-related run-ins with the law in his younger days. I can't say that it affects Anj and I's opinion of him. I figure if you're fit to run a country while having that sort of thing in your past, you can probably win a televised karaoke contest too! Go Bo!

Hopefully, I'll talk to you on Monday night via the airwaves in addition to this blog.
Be Cool,
TS
---
This is a follow-up to the last Terry's Time Machine that I did.
My comment regarding smoking was true. At the time, it seemed like most of the DJs in the building smoked cigarettes. These days, due to healthier lifestyles and the fact that cigarettes cost about as much as a black market lung transplant, we don't have any smokers on the airstaff.
"I just inhaled a year's salary! Tee-hee!"
I started smoking when I was 17. I was never a very heavy smoker. I knew I wanted to quit after about 3 months of it. Of course, by then I was hooked. Thus, began a long journey of trying to kick a criminally stupid habit.
My quitting techniques included, but were not limited to the following:
1) Every week I didn't smoke, I would buy myself some Magic: The Gathering cards.
2) I quit taking breaks at work to avoid the temptation to smoke.
3) I only let myself smoke during set "appointments". Eventually I dropped "appointments" until I didn't smoke.
I was only a little irritable...
Individually, none of these techniques put the nail in the coffin of my coffin nails, but combined over time, my dependence on nicotine gradually disappeared. I've been smoke-free for quite some time now. No matter how hard you think it will be to quit, you're right, and it's still worth it.
Switching gears now.
The folks who filled in for me that weekend deserve a "Where Are They Now?" I'd say.
"Bazooka Joe" was the alias for one of the DJs who worked for our sister station, WIFC. He currently works in the medical field.
Billie still works for us, but these days she works in human resources instead of being on the air. Her mother works as the receptionist in our Plover office too.
"Race Bannon" was the alias of none other than Lee Peek when he filled in on Cool-FM (one of the formats we tried on 94.7FM.) Lee, as you well know, has moved on to new ventures. He always enjoyed working the oldies format, though.
Incidentally, when 94.7 flipped to Cool-FM, I was looking for ways to promote the station without being blatantly obvious about it. I decided to start signing off my e-mails and blogs with "Be Cool". Even after Cool-FM was dropped in favor of a different format, I kept "Be Cool" because I liked the way it sounded.
I was still cheering for Bo Bice in that blog entry too. Idol really had me in its grip back then. I still think the stuff he was arrested for ought to be de-criminalized and taxed.
Be Cool,
TS