Timothy Michael Poe's story continues to fall apart.

The "America's Got Talent" contestant submitted a photo to the show, supposedly of himself in military gear. Turns out to be of another soldier.
Poe won't comment, but his fiancee tells the AP it was an honest mistake. She says he must have downloaded it by accident off a military site because he was in a rush.

She says, "It was an accident. It was a complete accident."
Seriously!? How do you not know that you have downloaded a picture of someone else? What is up with this guy?
btw...The soldier in the photo is actually Staff Sgt. Norman Bone, and it was taken while he was in Afghanistan in 2006. He is still on active duty in El Paso, TX.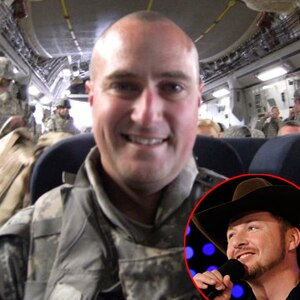 Needless to say, he's pretty ticked off! Bone tells TMZ, "First thing that came to my mind was 'Why would this lying son of a b&*#$ do this, adding "I'm absolutely furious. Been seeing red all day."

Bone says he's never even heard of Timothy Poe -- and he's going to meet with the Army legal department to explore his options.

Poe told the show's judges that he was seriously wounded in Afghanistan and took up singing to ease his recovery. The Minnesota National Guard, with whom he served, says it has no record of him getting injured.

Source
Source 2
Source 3